I could not be more excited about what is headed your way the second week in October! After calling for guest posters (that sounds so silly) to post about what kind of mom you are, I was so pleased with the response; man I have the greatest readers *that's you, in case there was any confusion*.
Thank you, thank you, thank you to all who applied. I recieved some great one-liners,
and I know the full length posts will be even better.
So, without further adieu, here's something to get excited about:
Monday, October 11th :
Tuesday, October 12th :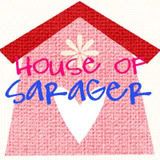 Wednesday, October 13th:
Bobbi Jo, mother of two
Thursday, October 14th :
Friday, October 15th :
Oh, and get excited...I will be offering a giveway every Friday of this month! I've got some super cute stuff coming your way! Also, don't forget to enter the one I've got going on now (through next Friday, October 8th). You can enter
HERE
.