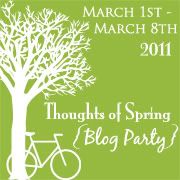 So, in the spirit of good JUJU, I'm joining a new linky party today. Linky parties are a GREAT way to not only spread the word about your own blog but to find others to read and love. And this one sounds like fun. AND, I can't ask others to join my linky party if I don't join as well, can I? That would bad for the JUJU.
Very bad indeed.
So, this is for the good JUJU I'm desperately needing today.
How would people describe your personality? (If they could only use ONE word.) Are they right?
Good question. My first guess is they'd say 'creative'. I've been told this several times. It's often followed by dedicated, driven, and even sometimes funny. But, I'm hopeful that one person might say Godly or purposeful.
What celebrity/celebrities would create a "Star-Struck" feeling if you saw them in real life?
Kelle Hampton, Derrick Shepherd (I mean Patrick Dempsey), Harper Lee, and Dave Barnes,

Who is your favorite blogger? Why?
Easy answer. That would be THE EMILY ANDERSON. Love her style, her pretty pictures, her beautiful children, her musical selections, and her big ole' heart for Jesus. Check her out; you can love her too. I'm not above sharing.
What is your comfort food/drink?
Yet another easy one. Two things I love:
*Starbucks, specifically a little ditty known as the peppermint mocha
Be brave – tell us something very random and weird about yourself.
I AM random, is that random enough? I am a wharehouse for useless facts, I have an uncanny ability to hear a song and know not only what movie soundtrack it is from, but what part of the movie included the song. I can't ride a bike, have trouble parallel parking, and can't stand lettuce. No salads for me, thanks.
Do you have a strong desire to do something you've never done? What is it?
One word: Africa. I want to go, and I want to help. This is probably not surprising if you've been around here for a while. But, you might be surprised to know that I've never been on a mission trip, so one day (fingers crossed) when I finally make it to Africa, it'll be my first. I like to start big, apparently.
Movies: Action, Drama, Romantic Comedy, Documentary, Comedy? What are your favorite genres?
I don't have a favorite genre. I like movies with characters that I can relate to and clever, catchy lines. Good music helps too. A few favorites include:
The Breakfast Club, Ferris Bueller's Day Off, The Goonies, Juno, Serendipity, The Family Stone.
Books: Fiction, Non-Fiction, Romance, Biographies, True Stories, Self-Help, Devotional/Study? What are your favorite types of reading material?
I like a good story, plain and simple. Good character development gets me every time. As an English teacher, reading is my job.
Here's a post
I wrote a while back about some of my favorites.
Music: Funk, Rock, Country, Jazz, Classical, Film Score, Blues, Classic Rock, Crooner, Alternative, Heavy Metal, Techno? What are your favorite types?
Oh gracious, this may be even more difficult for me to answer than the book question. I've blogged about this several times, and let me just say that I cannot get enough. My i-pod and I are bff.
A few of my favorite artists include:
The boys: Jack Johnson, John Mayer, Dave Barnes, Eric Hutchinson, Gavin DeGraw, and James Taylor.
The girls: Sheryl Crow. Colbie Caillat, and Ingrid Michaelson.
If you inherited a million dollars, what is the first thing you would do with your money?
Donate. There would be lots of donating going on here, folks.
Name one weakness of yours (confession is good for the soul).
I have a bad habit of leaping before I look. By this I mean, I get an idea and want to act on it before really taking time to think it through....my excitement and the little kid in me sometimes get the best of me.
If you could live anywhere at all (and take all your loved ones with you), where would you go?
I'd spend my days somewhere sunny with a hint of salt in the air.
Strange Talent? Can you juggle basketballs, put your legs behind your head or perform some other strange feat?
Well, let's see....I can talk fast. Like really fast. Think auctioneer. I could so do that if I so desired, which I don't. Sad.
Oh, but I can also do this:
It's a little trick I learned one summer during college when I taught riding lessons at a camp for girls. Very useful. Ok, maybe less than useful. But, it might just be a little impressive, yes?
What's something you consider yourself to be good at? (Don't worry, it's not bragging, it's acknowledging a God given gift).
I think I'm a really good judge of character. Though I wish I could say it was always this way, I think it's one of those that I've developed with age. And seeing as how I'm over thirty now (AHHHH!!!), years are something I seem to be collecting quite nicely.
What is one of your favorite things to catch a whiff of?
Simply put: the fair. Funnel cakes, corn dogs, and family fun? Yes, please.
When you leave a social gathering, do you wish: You would have talked more or You would have talked less?
I am a talker, plain and simple. But, I also consider myself one heck of a listener.
Best of both worlds? I think so.
If money wasn't a factor, what stores would you shop in?
Pottery Barn, J. Crew, Anthropologie...and Target. Always Target.
What is your greatest fear or strange phobia?
I'll take 'strange phobia' for two hundred, please. I'm mildly terrified of losing things. Misplacing my wallet for two minutes will give me a mild panic attack every. single. time.
What is your greatest accomplishment?
Greatest accomplishment. No contest.
What are your favorite animals?
I think owls are so stinkin' cute.
A few random things before you go:
*Libby's skin is about to push me over the edge. Just thought I'd throw that in there.
Happy Thursday, peeps.